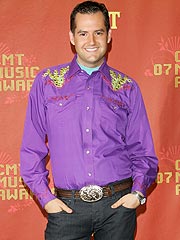 Last night, Ross - Jay Leno's "Intern" on the Tonight Show - screened clips of the glitzy Elton John par-tay which he crashed on the eve of the Oscars (February 27th).
Imagine that, Jay's flaming man-about-town, got the royal snub from the Knighted one (who is keen on the use of surgical plugs in the scalp to enable a head of lustrous locks for the balding few).
Though Ross often alights at red carpet ceremonies around Tinsel Town with a "Press Pass" - and Carte Blanche to offer up the scoop on a myriad of show-biz extravaganzas each season - an elusive invite into the chi-chi inner sanctum, thus far, eluded his grasp (til now, that is).
With Leno's considerable clout behind his chubby little derriere, Ross managed to wangle his way past the brass rails, where he mingled-and-mixed at the annual Elton John soiree that draws the high-and-mighty (the power-elite, too) like moths to flame.
Leno's viewers were treated to a hilarious peek into the par-tay hearty - replete with clever quips - from the ever-comedic footloose-and-fancy-free social-climber.
OMG!
When he cornered Tori Spelling for a chat - he casually stared down at the mirrored floor - and gasped at a spontaneous blooper (of sorts).
Judging from the quirky interns reaction, Ms. Spelling appeared to have slipped into her party frock, without first donning a pair of frilly sexy underthings!
"I know 'ya a lot better now," Ross guffawed loudly!
Wink! Wink!
Jane Lynch was most accommodating, too.
In fact, the talented "Glee" star turned out to be a generous soul, indeed!
A Visa charge plate - with a $2,000 line of credit (which she was gifted in a pricey swag-bag) - was gallantly tossed into Ross's "care" bag with little aplomb.
But, schmoozing with Sir Elton, didn't prove to be a gay-old-time, at all!
The popular crooner (celebrated for his gift on the ivory keys) wickedly gagged under-his-breath as he dashed by the startled roving reporter in a bold-faced effort to elude the media presence.
What a piece of limey sh**!
Especially, when you consider, that the press has always been so kind in respect to Elton's homo-erotic lifestyle and the adoption of kids (who will end up spoiled brats) despite the fact he's in a gay union with another male.
Count your blessings, dahlink!
http://www.thetattler.biz

Tori lacks lift & thrust!