Sandra Oh trots red carpet at Asian Pacific Film Fest!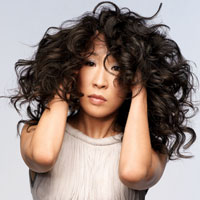 Sung Kang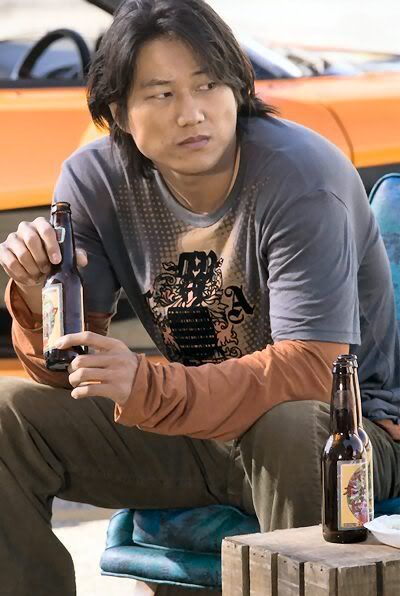 When Sung Kang strolled down the red carpet last night for the premiere of "Fast Five" at the Director's Guild of America, he was definitely the man of the hour!
The handsome actor who stars in the just-released "Fast Five" (the sequel to "Fast & Loose) was literally mobbed with well-wishers at the annual Los Angeles Asian Pacific Film Festival.
When a local interviewer (Jocelyn Wang @ 8 Asians) asked Mr. Kang what film made him cry, he was quick with an answer that was a surprise.
"Pippi Longstalking," he beamed.
"That's you're only question," he wondered aloud.
Uh-huh!

When I cornered the charismatic star, he noted he was pretty much content with his career.

In response to my own question about what kind of flick he would like to sign on for in the future, he was quick on the uptake.

"A comedy," he grinned ear-to-ear.
Meanwhile, the wine flowed, the tony guests snacked on delicious finger food, and a posse of up-and-coming stars mingled and chatted each other up to a fever pitch 'til the witching hour when the curtain finally fell on the first night of the Asian Pacific Fest.
Dapper PR man - David Magdael (sporting a well-tailored dark suit with an orchid in the lapel) - excitedly noted that this year's film outing was "bursting at the seams".
"Within two days, both the opening night and closing night galas sold out."
A big draw this year turned out to be the "Fast Five" (starring Paul Walker & Vin Diesel) screening - a flick that was directed by an alumni of the festival - Justin Lin.
"Justin premiered a film nine here years ago," Magdael pointed out for the record.
"We called him up and asked if he would like to premiere "FAST FIVE". He jumped at the opportunity. He has never forgotten his roots."
Mr. Lin recently launched a Short Film Competition which has been well-received also.
The popular web site - "You Offend me You Offend my Family - was set up to launch that altruistic effort.
http://www.YOMYOMF.com
Actually, it was quite a night for the Asian Film Community.
Danny Pudi (NBC's "Community") - who acted one of the MC's at the glittering gala (alongside Parvesh Cheena of NBC's "Outsourced") - gushed that the opening night launch was just "fabulous".
"The Asian community is so together. It has been such a rewarding experience for me to attend," he excitedly blurted out as he greeted a posse of fans in the DGA lobby after the screening.
Obviously, Danny was floating on a cloud, judging by his animated presence as he courted attendees at the glittering celebration.
There was quite a stellar turn-out - which not only sparked the night - but set the tone of glamour for the week-long event.
The arrival of Archie Kao (CSI) on the red carpet triggered screams from adoring women.
Yes, he's single, ladies!
Archie whispered in my ear that he will be featured in a big-budget feature later in the year.
Kelvin Han Yee was beaming with pride over the fact he helped raise 1.6 million dollars at a fundraiser for victims of the Japan disaster.
Mr. Yee is starring in an episode of "Hawaii 5-0" (he plays a Police Chief) which will broadcast on May 16th.
Karin Anna Cheung who I interviewed last year when she appeared in "People I've Slept With" looked stunning in a chic understated red cocktail dress.
I also spied (and said hello to) Director Quentin Lee - quite a character in his own right - who flitted among the guests quipping jokes and having a gay old time.
Randall Park - on his way to stardom - is currently appearing in "Supah Ninjahs" on cable.
When I quizzed the outgoing down-to-earth actor about future plans, he confided he was open to meatier roles.
"I would like to be the first Asian romantic leading man."
A tall order to fill, but he has what it takes - the looks, the talent, the "it" quality - to achieve that goal in my estimation.
Parvesh Cheena (who co-hosted the event's premiere) was excited about a voice-over role in an upcoming "Transformer" project.
Gillian Jacobs (NBC "Community") caused quite a stir when she posed for the paparazzi on the electric red carpet, too.
Sandra Oh (Grey's Anatomy) - was fashionably late (she was the last star to trot in and dash off to catch Fast Five in the packed DGA Theatre) - but no one seemed to be miffed.
Shooting late on set, perhaps?
One of the actresses that stood out was Monique Cumen.
Ms. Curnen (Fast & Furious & The Dark Knight) was effervescent and glowed in her tasteful black cocktail dress.
Actually, it was quite the night for fashion statements all round.
Gowns ran the gamut from floor-length (and body-hugging) to short short - and more-often-than-not - were awash with pretty floral motifs or dazzling mood-uplifting pastels.
The men - a few Asian males actually sported orange "do's" (which jelled well with their trendy hip street-wear) - were sharply turned-out, too.
Some wore black dress slacks or jeans, teamed with ubiquitous t's etched with a smattering of designer logos and off-beat stylish etched prints on their face.
Fedoras and Berets added a European flair to the aura of the night's festivities.
I also was blessed with the opportunity to meet up-and-coming talent which is always a plus for me.
The Director of - "I'm in the Mood for Love" (who was in attendance last night) - chatted me up.
Jason Karman's short film - a gay love story - screens on Monday May 2nd at the Festival.
The young actor playing one of the leads is certainly "on the rise" in respect to his eventful career.
Kyle Toy has a charismatic appeal that is sure to take him far in the biz!
A synopsis of the film?
A singing telegram worker meets his ex-boyfriend while having hot pot and learns to embrace his new found bachelorhood through popular song
Catch it if you can, especially in view of the fact it is slated to screen in Toronto in the near future, and has also garnered several awards that single it out as quality film that deserves a following!
By the way, what a blast last night's premiere proved to be!
The Disc Jockey spun danceable upbeat tunes that rocked from the get-go.
I ecstatically blurted out to Mr. Magdael that he really outdid himself this year!
Indeed, tony guests packed the local venue - and lit up the prestigious home for the local chapter of the Director's Guild - as the "faces" of legendary stars peered down from the walls (such as Elizabeth Taylor, Montgomery Clift, Jack Lemmon, Orson Welles, to name-a-few).
Well-heeled waiters in elegant uniforms floated through the crowd offering up a glut of treats - such as delectable chocolate sweets- yummy cream-filled-cake, delicious finger food, and exotic cocktails provided by a host of sponsors (KeKel Vodka, for one).
In particular, a handful of merchants sprinkled around the charged keyed-up foyer, satiated any-and-all pangs of hunger by virtue of mouth-watering offerings that were gulped down in one full swoop.
Hot Stuff Cafe's finger foods were sensational (to say the least).
"The Candy Chef" was on hand to treat the film fans with hard candy, delightful Asian sweets, and chewy snacks that really hit the spot.
I was asked to inform folks that their specialty is Candy Arrangements.
Check them out!
I didn't even wake up with a hang-over this morning - in spite of the fact I also caught the Royal Wedding - and did not tuck in until I actually heard a rooster crow in Hollywood at about 5 a.m. (

No kidding, folks!
Tonight, I expect to trot down to the DGA to catch The Wedding Palace (feature) and Saigon Electric.
See 'ya there!
Tickets & Info
.
Director Justin Lin premiered Fast Five!

Director Quentin Lee in high spirits!